Why New Sites Must Be Mobile Friendly
Last Updated on , written by Amelia Cassiday
Nowadays, it is no longer good enough for a bingo site to only offer its services to desktop players, as they should also allow those using a mobile device to enjoy their favourite games of bingo, wherever they happen to be. Whether they're playing bingo on the train, or playing a few slots on their work break, the appetite for mobile gambling in the UK is certainly growing – in fact, it is now probably as popular as desktop gambling.
But why do online bingo sites have to offer a mobile experience to their members? Well, there are a few important reasons, and they are discussed when you keep reading through this article…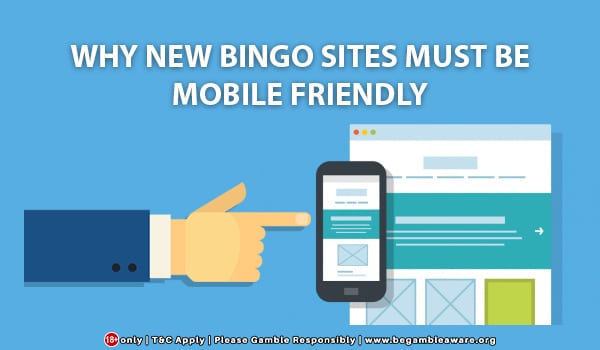 Gamblers Want to Play Everywhere
The first reason why it's massively important for a site to offer mobile gambling is this: online bingo players really want to play wherever they happen to be. By offering the chance to play using a Wi-Fi connection or via 3G/4G, sites ensure that their players never have to go without bingo when they're out. What's more, you should still find a great selection of games when you play using a mobile, meaning that you should always be able to find the game you favour playing, whether that's 75-ball bingo, 90-ball bingo, or one of the new and exciting variations that online bingo sites have developed recently.
Mobiles Are Also Popular in the Home
You might think that the majority of online gambling goes on away from home, however you would be wrong. Most mobile gambling actually takes place within the four walls of the player's home, with them connected to their own Wi-Fi network. Whether they're lying in bed, unable to get to sleep, or sitting in front of the TV, people are found playing bingo at home in loads of situations. So, if there is no mobile gambling on offer, these players would be stuck in front of their desktop, and wouldn't have the freedom to play in the front room, bedroom, or even the bathroom!
They Can't Fall Behind the Pack
In the online gambling world, it is important that a site never falls behind the pack. If they do, they run the risk of becoming completely irrelevant – something that can lead to a lack of players and even the eventual closing down of the site in question. So, as most online bingo sites also offer a mobile platform, all new sites must also offer the chance to play using a mobile. The best sites won't just simply offer the chance to play using a mobile though – they'll offer a new and exciting way to gamble, bringing in new ideas that the already established names have not implemented yet. This will differentiate them in a crowded marketplace and should lead to them getting a decent flow of new customers.
So, as you can see, there are a few different reasons why new online bingo sites have to be mobile friendly nowadays – if they aren't, they'll never manage to attract new players and will often simply drift off into obscurity. If, however, the above points are implemented at new bingo sites 2019 could be a really good year for those looking to play bingo using their smartphone or tablet.
If you're ready to find a top mobile bingo site, why not look through the reviews of our recommended mobile bingo sites today?