William Hill Bingo
Get £40 Extra to Spend Playing and Enjoying the Site
Save Money by Purchasing Tickets to Pre-Buy Games
Social Media Specials Offered by William Hill
|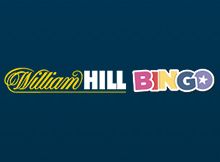 PLAY BINGO ONLINE 400% BONUS UP TO £400 at William Hill Bingo
FIRST IMPRESSIONS
William Hill has become quite a famous gambling brand as of late, but the company has been around for well over 80 years. This enterprise has now branched out in plenty of directions. One of these branches regards Bingo. The first impression of William Hill Bingo looks very promising. William Hill offers many different types of games, as well as Betting and now Bingo. The Bingo site offers many different types of Bingo rooms and includes very good promotions.
The front page is a colorful thing and it is loaded with good information concerning promotions, top games, bingo rooms and bingo schedules. It is possible that the front page of William Hill Bingo offers the perfect mix between information and colorful graphics.
INTERESTING FACTS
William Hill Bingo is a highly multifaceted Bingo site that offers plenty of Bingo rooms
The site offers many other types of games such as Casino and Poker, as well as Betting
William Hill Bingo offers a great mixture of secure payment methods
It's very easy to get in touch with the customer service, via e-mail, live chat and telephone
HISTORY
William Hill was founded in 1934, by William Hill himself, during a time when gambling was still illegal in Great Britain. The company has changed owners many times, a few examples of these are: Sears Holding, Grand Metropolitan and Brent Walker. The enterprise was listed at the London stock exchange in 2002. During the years 2002 and 2003 the company acquired two large Greyhound- racing arenas; namely Sunderland's- and Newcastle's Greyhound-racing arenas. Today William Hill offers different types of online games such as Casino, Betting, and Poker. The company also owns a whopping 2.370 gaming stores all over the UK.
GAMES AND SOFTWARE
William Hill Bingo offers its players large amounts of games. How about Bingo, Slots, Casino, Poker, Live Casino and Vegas? William Hill is one of those platforms that offers pretty much all kinds of online games. This is something for everyone – the Bingo site of William Hill is obviously great; however, it must also be nice to know that other parts of the platform are working hard to create the perfect gambling experience for you and your family.
BONUSES AND OTHER OFFERS
William Hill Bingo offers a Welcome Bonus that is as simple as it is ingenious. It involves signing up, depositing £10 and spending the money on Bingo tickets. The moment you do that you receive a flabbergasting £40 extra to spend playing and enjoying the site. The Bonus consists of £30 Bingo Bonus, and £10 Bonus to be used on all games on the site.
William Hill Bingo provides its players with many other promotions. There are, for instance, 'Monthly Specials' to be had; save money by purchasing tickets to Pre-Buy Games; take part in fun-loving Chat Games, a great way to make new friends online; and use social media to be a part of the Social Specials offered by William Hill.
DEPOSITS AND WITHDRAWALS
William Hill Bingo offers a range of reliable and secure payment methods, such as Visa, MasterCard, Neteller, PayPal, Skrill and paysafecard.
CUSTOMER SERVICE
The customer service of William Hill Bingo is available via e-mail, live chat, or on telephone.
CONTACT INFORMATION:
Head over to the William Hill Help Centre to learn its e-mail address as well as getting access to its live chat. You are also very welcome to contact William Hill on Twitter.
Telephone number for customers in the UK: 0800 0856 296
Phone number for customers outside the UK: +44 870 600 0479
Stars From BingoSites.co.uk
The customer service of William Hill Bingo is available via e-mail, live chat, or on telephone.
Head over to the William Hill Help Centre to learn its e-mail address as well as getting access to its live chat. You are also very welcome to contact William Hill on Twitter.
Telephone number for customers in the UK: 0800 0856 296
Phone number for customers outside the UK: +44 870 600 0