So, you're looking to play at an online bingo website, and wondering what a bingo network is? In a nutshell, bingo networks are run by third-party software providers and subsequently allow bingo sites to link their games with other platforms. In doing so, not only are players accustomed to more traffic, but it also allows bingo sites to offer huge jackpot prize pools.
If you're interested in finding out more about Bingo networks, be sure to read our informative guide. We cover everything from what Bingo networks are and how they work, as well as a discussion on who the key bingo network providers are.
In its most basic form, a bingo network is a network of bingo sites that link some, or all of their games within one another. The overarching reason for this is two-fold.
Firstly, it ensures that the bingo site always has traffic, which is especially useful to new operators that have only recently opened their doors. Secondly, because bingo networks are accustomed to more player traffic, this means that the underlying prize pool will be much bigger in comparison to a stand-alone game.
Note: A stand-alone game means that the bingo game is operated by the bingo site, and only the bingo site. This means that everything is facilitated in-house, as opposed to through a third-party network.
The interesting thing about bingo networks is that in most cases, players are often unaware that they are playing against players from other sites. You as a player will see the exact same layout as you would by playing a stand-alone game, and all winnings are paid directly into your bingo account.
As you will be playing against players from other bingo sites — you also have the chance to communicate via an in-game chat box. This adds a social feel to the game, in the same way that you might chat to other players at a land-based bingo hall!
How does a bingo network work?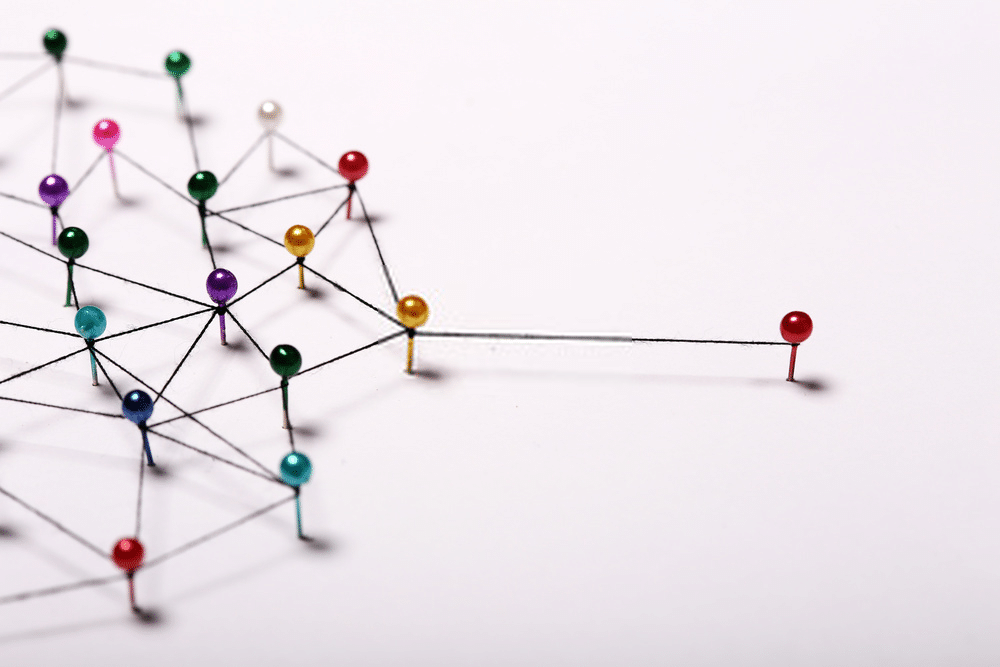 In order to ensure that you have a firm grasp of how a bingo network works, let's look at a quick example.
All bingo tickets are £1
Bingo site A sells 100 tickets, which amounts to £100
Bingo site B sells 200 tickets, which amounts to £200
Bingo site C sells 5 tickets, which amounts to £5
As you will see from the above example, across the three platforms a total of £305 in tickets were sold. Most importantly, even though bingo site C only sold £5 worth of tickets, its players will still have access to a prize pool of £305. This once against amplifies the importance of using bingo networks when operators have just launched - otherwise, their prize pools would be too small.
A 'line' win pays 20% of the pot
This means that a 'line' win would yield £61 (£305*20%)
A 'house' win pays the remaining 80% of the pot
This means that a 'house' win would yield £244 (£305*80%)
Advantages and disadvantages of bingo networks
Advantages:
Large player pool: As multiple bingo operators form part of a bingo network, there will be much more player traffic in comparison to a stand-alone game. This means that you could be playing against hundreds, if not thousands of other players.
Bigger prizes: Following on from the above point, a major advantage of playing bingo via a bingo network is that the prize pools will almost always be bigger than a stand-alone game. The simple reason for this is that by having access to more players, more tickets will be sold. As such, this will subsequently result in larger prizes.
More social: If you're the type of bingo player that craves that social feel to the game, then you can do this via an in-game chat facility. However, this might not be possible in a stand-alone game that has limited player numbers. On the contrary, as bingo networks will always have more players, you'll be able to chat away with ease!
Disadvantages:
Sites can be similar: As bingo networks are suitable for operators of all sizes, this allows new entrants to the market to gain instant access to larger bingo games. However, this can result in a lot of new bingo sites looking very similar to one another.
Lack of innovation: A second potential pit-full to bingo networks is that they can hinder innovation. As bingo sites simply need to connect to larger bingo networks, it somewhat de-motivates them to innovate with new and exciting stand-alone game releases.
The major bingo networks
So now that you know the ins and outs of how a bingo network works, we are now going to list the key players currently offering their bingo network services.
Dragonfish bingo network: Dragonfish is often regarded as the industry leader in the bingo network space. In fact, the network has now partnered with 140 individual bingo websites, which all-but guarantees constant player traffic and huge prize pots. This includes the likes of 888Ladies, Wink Bingo, Robinhood Bingo, and Blighty Bingo.
Gamesys bingo network: Launched way back in 2001, Gamesys is a popular software provider that creates a range of casino games. On top of a fully-fledged slots department, the team at Gamesys knows a thing or two about creating innovative bingo networks. At the time of writing, it is estimated that more than 40 million players have used bingo games facilitated by the Gamesys bingo network, which is huge.
Virtue Fusion bingo network: Although less-known than the likes of Dragonfish or Gamesys, Virtue Fusion has been active in the online gambling space since 1999. As such, this makes them one of the most established developers in the space. Specializing in bingo network services, Virtue Fusion averages peak traffic levels of 6,000 players at any given time. As such, you'll likely find a game with lucrative jackpots 24 hours a day.
Real Bingo Network: Real Bingo Network is an offshoot of the industry leading brand of Dragonfish. By utilizing the services of a separate entity, this allows the team at Dragonfish to innovate their ever-growing bingo network. In doing so, players are accustomed to a new and exciting layout that is different from what Dragonfish typically offers.
Live Bingo Network: Although you might not have heard of Live Bingo Network, they are actually part of the much larger Cozy Games group. For those unaware, Cozy Games is involved in a range of popular casino games such as roulette, blackjack, slots and video poker - with the developer claiming to have serviced more than 4.5 million players since its inception in 2005. Nevertheless, its Live Bingo Network subsidiary now offers its services to more than 75 bingo sites, so there's a good chance that you might have previously experienced one of its games.
Best Bingo Network: The Best Bingo Network is also part of the much wider Cozy Games group. As such, its games are typically responsible for high player traffic around the clock, which subsequently results in decent prize pots.
Lucky Duck Network: Much like in the case of both Live Bingo Network and Best Bingo Network, Lucky Duck Network forms part of the wider Cozy Games group. This offers players the chance to experience the wide-reaching grasp of the Cozy Games network, but with a twist.
Joy of Bingo: Launched in 2007, the Joy of Bingo is yet another subsidiary of the ever-growing Dragonfish group. Its small team of developers are well-known for creating bingo network games that are jam-packed with innovative graphics - subsequently ensuring that the player experience remains a fun one at all times!
Microgaming: Irrespective of the game type, if you've ever played at an online casino then you can be certain that you've experienced a Microgaming title before. Founded way back in 2004, Microgaming has its casino-fingers in most pies. On top of bingo games, it is also involved in slots, table games, live dealers, and more! Its industry leading status within the software development space ensures that bingo sites are always keen to link their games up with the Microgaming bingo network.
If you've read our brief guide on bingo networks from start to finish, you should now have a really good idea of what they are and how they work. The most important takeaway is that bingo networks ensure that players are always able to play bingo games with high traffic. In doing so, they'll be able to play games with much higher prize pots!
If playing online bingo via a bingo network is something that appeals to you, be sure to check out our recommended list of industry-leading bingo sites. All of our recommendations come with a fully-fledged review so that you can determine whether or not the bingo site is right for your needs!
What are the largest bingo networks?
In terms of player numbers, the largest bingo networks are typically found via the Dragonfish, Gamesys and Microgaming networks.
How do I tell if a site is part of a network?
In most cases, you'll see the certification logo of the bingo network in question clearly displayed.
What bingo network is best for me?
Each bingo network has its own pros and cons, so you're best off assessing what each bingo network excels at. For example, while some networks are best for player traffic, others are better suited for those that crave the social side of bingo!
Do bigger networks have bigger prizes?
In the vast majority of cases, you'll find bigger prizes when playing a game hosted by a bingo network. The overarching reason for this is that there are more players and thus – more ticket sales.
Are all sites connected to a network?
Not all sites are connected to a bingo network. If they aren't, it's probably because their customer base is already of significant size, meaning that they don't need to hook up to other bingo sites.