All About Virtue Fusion Bingo Games
Last Updated on , written by Amelia Cassiday
Virtue Fusion Bingo is a well-known online and land-based Bingo software provider established in 1999. The Virtue Fusion brand is a sub division of Gaming Technology Ltd, and, thanks to a merger in 2010 is part of the global Playtech gaming platform. The London-based company offers a full platform of Bingo games along with multiple unique Bingo variations, all of which are regulated by the Gambling Commission of Alderney.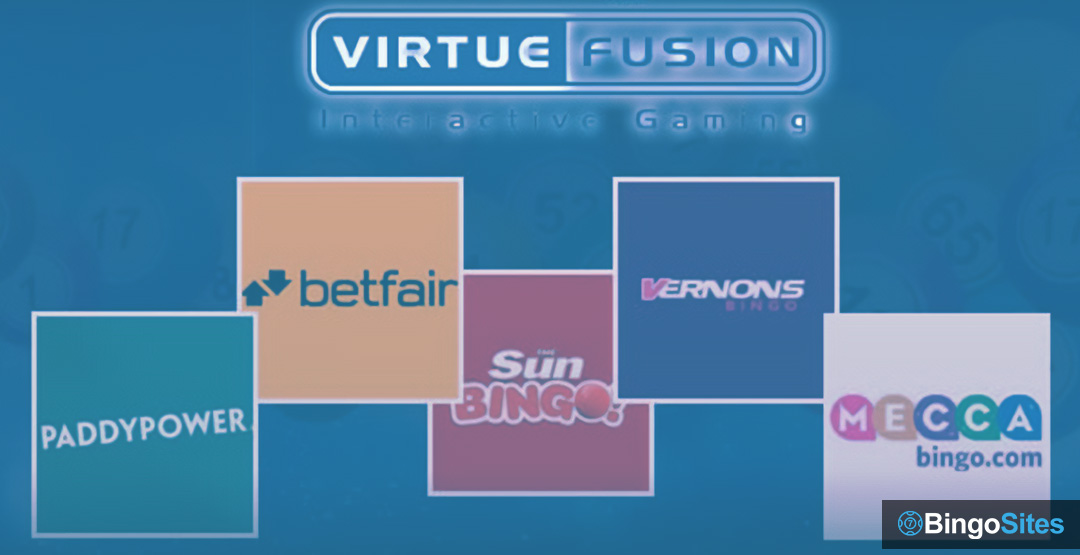 Virtue Fusion Bingo games are network-based, allowing players from any online casino running the same software to join the same rooms. This results in better social gaming, much bigger jackpots, and multiple rooms with various ticket options. The software is accessible from most UK casinos, offering UK players a broad selection of games, promotions, and diverse array of Bingo features.
Popular Virtue Fusion Bingo Games
To ensure true variation and choice, Virtue Fusion delivers some of the most popular bingo games to the biggest names in the industry. In terms of standard Bingo variations, the platform includes 75-ball, 80-ball, and 90-ball games. In addition, various unique gaming options are available, offering multiple ticket options, gaming features, and rewards as seen with their standard Bingo variants.
Among their most popular one-of-a-kind games is the Deal or No Deal variant that's based on the globally popular television game show. The game offers the same standard Bingo features as well as an additional bonus features, allowing players who hold the winning tickets get to play an additional Deal or No Deal game and choose boxes.
The variation offers the same structure as the hit TV show, including offering players deals, or allowing them to take the risk and reveal more boxes. The game bargains the opportunity to win bigger prizes or possibly lower prizes, all depending on rewards the chosen boxes reveal first.
The Virtue Fusion Lucky Ball Numbers provides yet another impressive Bingo variation that incorporates the features of a lottery-style game with that of Bingo. Players get to play the regular 90-ball Bingo variation, but have the additional jackpot reward feature by choosing three lucky numbers. Should the player's winning ticket include any of these numbers, the game rewards a much bigger prize.
Virtue Fusion Tournaments
The Virtue Fusion Bingo platform provides linked jackpot games as well. These are commonly listed as tournaments that run daily from a specific time. These rooms are usually the most popular among all rooms as all the Bingo sites powered by Virtue Fusion link together and provide some of the biggest jackpot opportunities.
One of the most popular tournament games is Bingo Linx, known for offering jackpot winnings of up to £10,000. However, the odds of winning are lower with these rooms due to the number of players. On the other hand, rewards are extremely high so it's worthwhile to purchase additional tickets and increase the odds of winning.
Video slot tournaments form a major part of the Virtue Fusion platform as well. These games offer a similar platform of features and rewards as the Bingo Linx option, although players get to enjoy a video slot from one of the leading game providers instead.
In most cases, tournaments run daily and are linked across all the Virtue Fusion sites for bigger jackpot opportunities. Players can choose from various buy-in values, making it possible for all players to join the fun and obtain the desirable rewards.
Our Thoughts?
It's easy to see why all Virtue Fusion bingo sites are some of the most popular digital gaming destinations in the world. Their tournaments are well-worth playing, they provide unique games, and with mobile Bingo being available at most sites, players have all the latest and greatest features at hand. The interface on all their games provide social features, professional support options, and a board range of mini-games, including progressive jackpot opportunities and multiple arcade style games that best relate to what Bingo players enjoy.