How Long Does It Take To Receive Money From Foxy Bingo?
Last Updated on , written by Amelia Cassiday
When you make a withdrawal at Foxy Bingo, while times can vary, this can take up to 48 hours to receive your funds.
There are, of course, a number of factors that can determine this, and because of these, it is hard to pinpoint the exact length of time you receive your funds.
For most people, this will be more or less immediate; however, to cover itself, the site advises players that there can be delays for funds to process. For bonus and promotion funds, though, Foxy Bingo credits your account immediately.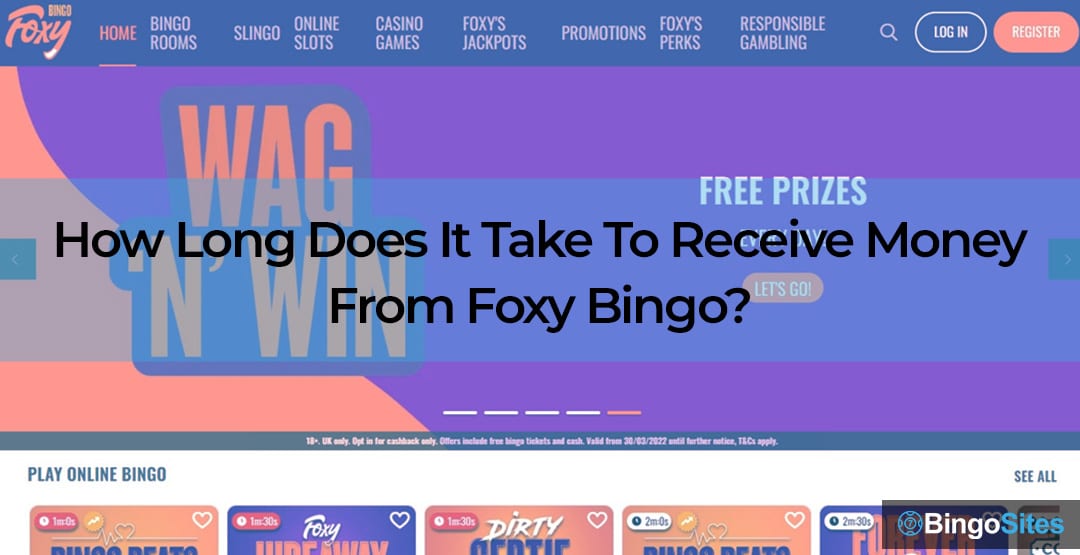 What Factors Are Involved In Withdrawal Times?
As touched upon, several factors can affect how long a withdrawal transaction can take, which we have discussed in more detail below!
Payment Method
Being a leading bingo site, Foxy Bingo offers players numerous options when it comes to making withdrawals, and you do not need to use the same one that you used to make a deposit.
Arguably the most unpredictable method is via debit card because many things affect this, so it can be a risk – as such, it can take anything up to six days using this method. A wire transfer can take up to 48 hours as well.
Over the years, e-wallets have proven to be more reliable for making withdrawals at bingo sites such as Foxy Bingo, especially PayPal, which is one of the most well-known, though even this can take up to 24 hours.
Name Of Your Bank
Every bank has a very different clearance process for transactions, especially for funds that are coming from corporations.
Sometimes, a bank will hold funds for the maximum amount of time possible as part of their AML (Anti-Money Laundering) checks and to investigate the legitimacy of the funds. Cynics would also argue that it benefits the bank because of the interest that they can accrue on these transactions.
Day Of The Week & Time Of The Day
Depending on your bank, the time of the day and the day of the week can also have a considerable influence on when you receive your funds from Foxy Bingo.
Often, banks have a cut-off point during the day when they stop processing transactions which can have an effect on when you get your funds. Also, banks do not process transactions on a weekend or bank holidays, which is why they advise to allow for 'three working days', though it can be shorter or longer.
If you make a withdrawal to your bank from Foxy Bingo on a Tuesday morning, it is reasonable to expect this to come through on Thursday.
How Do I Make A Withdrawal From Foxy Bingo?
When you want to withdraw your funds from Foxy Bingo, you will find that the process is a relatively straightforward one.
Simply visit your online bingo profile, and you will be presented with the option to withdraw your funds. However, it must be noted that the site has a minimum withdrawal limit of £10, and you cannot withdraw bonus funds that have not been wagered.
Choose which withdrawal option that you want to use, though first make sure you have an account with your favoured method if it is an e-wallet, for example.
When you have selected your method, you can then select the amount that you want to withdraw and then activate the transaction.
It is worth noting that for more significant amounts, such as a jackpot win on a slot, for example, the withdrawal time can take longer. In line with its policy, Foxy Bingo will invariably investigate the nature of the win to ensure that it was legitimate from a KYC (Know Your Customer) perspective.
Account Verification
One important thing to remember, especially if you make a withdrawal using an e-wallet, is that you could have to verify your account before you can process any activity on it.
This could be something as simple as checking a few boxes or answering a few questions, though it could make all the difference in receiving a withdrawal.
What If I Experience Difficulties With The Transaction?
Should you have any queries regarding how to make a withdrawal, Foxy Bingo offers a number of customer support options that are available to help you out.
This is on offer 24/7, every day of the week, with Live Chat being the most common customer support method to use. Your wait time will be no more than five minutes, and you will find the agents knowledgeable and helpful.
However, an email address is also provided if you feel more comfortable, and you can expect to wait up to 24 hours for a reply, while there is also a toll-free telephone number.
The best thing to do, though, is to check the FAQs page because it has a section about making withdrawals and all the information that you need in order to do this.
What If I Have Waited Longer Than The Recommended Timeframe To Receive A Withdrawal?
Should this be the case, the first thing to do is contact Foxy Bingo, either via phone or email (due to the nature of the enquiry) and explain in full all of your details. This should include your full name, the amount that you withdrew, and if possible, the time and date (however, they will be able to determine this).
Foxy Bingo will be obligated to look into the matter to find out the transaction's status – certainly if it has been over 10 working days.
At the same time, it would also be wise to contact your bank (only a bank debit transaction would usually take this long) via phone and explain to them the nature of the problem. They will also be obligated to investigate the matter. Furthermore, it could be that your bank contacts Foxy Bingo to find out what the status of the transaction is.
There could well be a simple explanation behind the delay, and you may find that this is resolved immediately. Ultimately, the most important thing to remember is to allow up to 48 hours for a withdrawal from Foxy Bingo to process, depending on the variables explained above.