Last Updated on , written by Amelia Cassiday
When it comes to online bingo, there is a lot to consider, especially for players. Their decision-making process for one, in terms of choosing a site to sign up to.
Here at BingoSites, our team of highly experienced industry experts spend hours forensically investigating each site to create balanced, informative reviews about all aspects of each site that we recommend.
There are many different things that we look at before deciding whether to even list a bingo site, though most importantly, none of the bingo sites that we list is rigged.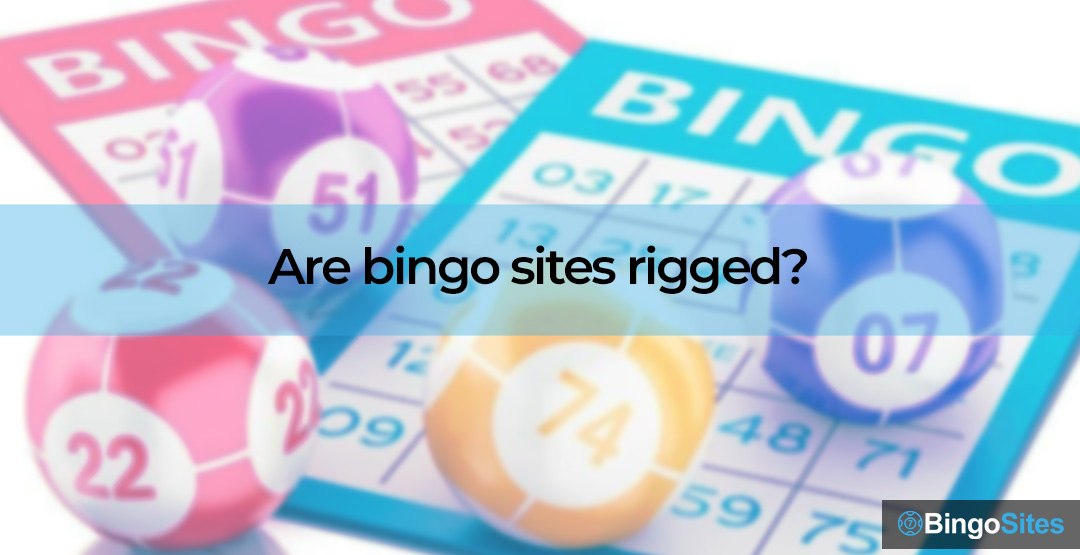 What does it mean for a bingo site to be 'rigged'?
When a bingo site is rigged, which happens in very rare cases, these usually do not have a recognised licence of any kind. Players will often find that the products (games) are unfair and this is reflected in the payouts of winnings. Some will not pay out at all and may have an inaccurate RTP (Return to Player) rate or slot volatility level.
Of course, any bingo sites that are licensed or regulated by a legitimate organisation such as the UKGC (UK Gambling Commission) are subject to heavy scrutiny. This means that they are monitored on a regular basis and any suspicious activity is immediately flagged.
Such organisations are in place for the protection of players. This helps to make sure that bingo sites are operating in a way that would suggest that a bingo site is effectively beyond reproach. It means they adhere to all of the standards and legislation set out in the requisite regulations.
When something is being referred to as 'rigged' in the industry, this usually means slot games, which are generally easier to manipulate than the RNG (Random Number Generator). This can affect the frequency of payouts from the slots. Although bingo games also have an RNG, because there is a defined amount or total, it would be relatively pointless to try and 'rig' an online bingo game.
A slot game though has many millions of possible numerical combinations that make up all of the different algorithms that dictate the outcome of just one, singular slot spin which means that any clever developer is able to tweak these to essentially command a certain combination not to appear.
How do we know when a bingo site is not rigged?
The vast majority of bingo sites available to UK players are regulated by the UKGC, which means that they are required to adhere to certain standards and laws. It is easy to tell if a bingo site has this licence because it will usually be listed in the footer. The easily identifiable UKGC logo is one way to tell, or it will simply state that it has this licence.
This firstly can be a major relief for players which acts as great peace of mind about their online safety.
However, another big clue that a bingo site is not rigged, is that it will have testing agency accreditation on the site. Testing agencies play a vital part in the world of iGaming because they are really able to distinguish whether a site is rigged or not.
Equipped with highly advanced technology, testing agencies, such as eCOGRA, conduct a thorough investigation into every product that can be found at an online bingo brand. This means taking a deep dive into the different slots plus products that have an RNG.
The beauty of testing agencies is that they are independently financed, while their consultants are highly paid and as a result, are not susceptible to any kind of bribes. Indeed all of their staff are subject to the highest manner of scrutiny. This ensures that they are following the correct procedure.
What should you do if you feel a bingo site is rigged?
If you feel that a bingo site is rigged, then there is a procedure that you must follow and relevant steps that you can take. The first thing that you should do is build up a case and this can take time.
If you are able to record your gameplay and keep track of how much you have spent over a certain amount of time, without having a payout, especially if it is on a high-frequency slot, then you should certainly make a note of this.
When you feel that you have built up a substantial enough case and your evidence is as comprehensive as it possibly can be, then it is time to contact the bingo site. Do this by email, submitting all of the evidence that you have collected.
Keep this email succinct and to the point, without rambling and make sure that it is calm and measured at all times. Try to avoid making any accusatory comments – simply stick to the facts and use the evidence provided.
Following this, you will usually receive a courtesy email from one of the customer service representatives likely saying that the matter has been referred up the chain. This will be investigated, though it may take some time for a conclusion to be reached. Bingo sites are obligated to look into every complaint that they receive and have an internal procedure of their own.
Once the investigation reaches its conclusion, the bingo site is compelled to reveal if there is a problem and compensate appropriately.
However, with such a serious matter, the player may also wish to refer this to the relevant regulatory body (UKGC) at the same time, who will launch an investigation of their own.
Should the findings prove detrimental to the bingo site, then it could mean that a heavy fine is issued, dismissals and in some cases, complete closure of the site.
Also, the player who reported the matter may well be compensated heavily. In addition to others, if they launch a class-action lawsuit against the site and a judge ends up ruling in their favour.
Rigging a bingo site is a serious matter and whether anyone within the company knows about it, they are obligated to make sure that they take accountability for the welfare of their players.